About the Honoree: Sis. Patricia Elizabeth Greenlea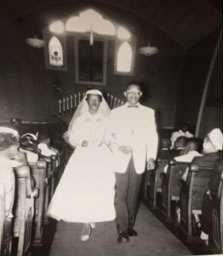 Today, we celebrate the dedicated service of a humble and beloved member of Second Baptist Church (Mumford, NY), Sis. Patricia Elizabeth (Simms) Greenlea. Sis. Greenlea was born on August 8th to the late William and Elizabeth Simms, who proudly had eight children.
Sis. Patricia Greenlea spent her childhood in Caledonia, NY, attending and later graduating from Cal-Mum school. She notes that she had several of the same teachers as her father. The school did not have kindergarten until after WWII. The teaching style was to sit in a circle where 1st graders sat with 2nd graders, who shared pen and paper with the younger students and helped teach various subjects.
Sis. Greenlea's first encounter with Second Baptist Church was at 10 months old when her mother brought her to church. She was baptized at the tender age of 13 by the former pastor, Rev. Ordell Porter. She briefly (a semester) attended Geneseo State College for speech therapy. Experiencing health issues forced her to dropout—she became a foster mother to 4 young girls and 1 boy.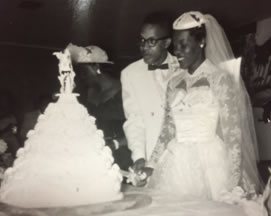 On July 7, 1956, Sis. Greenlea married the late Warren Greenlea. They have a son, Minister Cordie Greenlea who is an Executive Director at a charter school and an associate minister (under the direction of the pastor and his father-in-law, Rev. Joseph Benson) at the Unity Christian Church in Delaware. Bro. Warren Greenlea was a draft-man, artist and entertainer, playing various instruments, most notably, the saxophone. In the early years of their marriage, the Greenleas lived in Indianapolis, IN. After about 10 years, Sis. Greenlea and her three month old son, at the time, returned to Caledonia due to her health. She resided for awhile with her parents, spending several months recuperating. Her husband joined her soon after. Despite experiencing many health-related bouts, Sis. Greenlea continued to pursue her dreams and make an indelible impression upon all those she encountered.
In the early part of 1990s, Sis. Greenlea worked at the Office of the Aging. In the late 1990s, she attended Genesee Community College along with her sister, Sis. Judy Simms, and received a certification in special education. Subsequently, Sis. Greenlea used her certification to work with children and youth with special needs throughout the 1990s-mid 2000s: BOCES of Batavia, Mt. Morris elementary, Pavillion elementary, Lester Academy high school and Threshold Alternatives, working with at-risk teens and youth involved in the juvenile justice system, ages 19-25. She retired at the age of 72.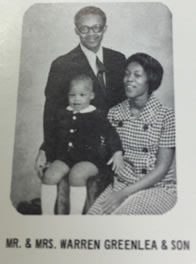 Sis. Patricia Greenlea has been (and continues to be) an active member in her childhood church. During former pastor, Rev. H. Beecher Hicks time, Sis. Greenlea served as a youth advisor and a substitute church clerk and secretary for the late Marie Nelson in 1967-1968, when Sis. Nelson had to assist the salt trucks in the salt mines in the winter. She also served as a secretary/receptionist at USA Gypsum, handling petty cash and orders. When the business folded and health issues returned, Sis. Greenlea babysat her cousins (watching up to 2 babies and three 3 year olds) while she recuperated.
Under Rev. William Larkin, Sis. Greenlea participated in numerous ministries: Sunday School teacher, chair of the Board of Education, usher and a Jr. Treasurer (the late Bill Lucas served as Treasurer). She held other positions: worked with the Sunday School (when Rev. Dr. Allen Weaver, Jr. was pastor) and Gospel choir member (when Bishop Robert Glover was pastor). She was part of the Ruth Circle, providing squares, bandages and aprons for mission projects of Valley Forge. Sis. Greenlea, Sis. Simms, Sis. Patsie Parker and Sis. Charlotte Hill held home bible study and completed a quilting project that was featured at the Genesee Country Museum (the project was noted in a 2000 news article that is posted in the church's library). She worked with her mother, teaching young women etiquette (in a group called Sarah Tolls).
Sis. Patricia Greenlea officially became the church Secretary in 1974 (when the late Rev. Dr. Charles Thurman was pastor). She also served on the Clayton A. Coles Scholarship Commission along with Commissioners, at the time: Sis. Mattie Thurman, the late Ruby Nelson, the late Marie Nelson, the late Jimmy Wallace and the late Roberta Griffin. Recalling a memory of working with Rev. Thurman as a Secretary was moving the church towards using advanced technology (i.e. transitioning from various typewriters—moving away from manually correcting typos, printing bulletins in color, upgrading Sunday School materials).
Her fondest memory is the fellowship after church as a youth: spending time at the home of Rev. Steven Wilson's grandmother and Sis. Pollard, gatherings at the park to play croquet, hayrides and riding in the pickup truck of the late Lewis Price to fellowship at Charlotte Beach.
Enjoying her retirement years, she spends time with her grandchildren and delights in watching them grow up, participating in the Estella Chapter which she joined in 1985—Zipporah Court #14, Bison Assembly #48 and serving 12-14 grand matrons as a Deputy for District #7. She is a member of the New Covenant Promise Foundation.
Sis. Greenlea would describe herself as: faithful, a person who keeps her word and does the best she can, as well as kind. She also refers to herself as the "energizer bunny", getting through her sickness. She notes "it would bother me if I made a mistake or insulted someone". She was taught to crochet at an early age by her mother, but did not pursue it as a hobby until later in life. Her favorite food is apple and lemon meringue pies. She enjoys old (1940s) movies, especially starring Lauren Bacall and Humphrey Bogart, as well as reading about people and the world—mysteries, historical accounts such as novels about the military (CIA, spies), Scotland and England's elites. Her favorite s/heroes: Shirley Chisholm, Rosa Parks and Shaka Zulu. She notes, if she could speak to a historical figure, it would be those who endured slavery to learn how it was for them, especially in Virginia, and how they had the courage to endure/follow directions. Her most treasured scripture is Ecclesiastes 3.
A lesson learned as a Secretary: "do not be afraid to ask her to do something. She is willing to do it if she is willing to do it if she is capable and others do not want to". Some other lessons learned/words of wisdom:
"Be sympathetic to other people's troubles"
"Any trouble you experience, GOD knows about it and will take care of it/fix it"
"Talk to GOD and get out the way"
"Let's pray about it"
"There is something you can do to make things better"
Furthermore, Sis. Greenlea wants to be known as someone who gives the right advice to others!
Sis. Greenlea has (and continues to) make herself available. Though she has retired from her role as church Secretary, she is currently helping current church staff with administrative matters in an invaluable way. The Second Baptist Church family would like to extend its heartfelt appreciation to a woman of faith, who has showed tremendous strength (in the midst of ongoing health challenges), staying the course and working tirelessly for her church.